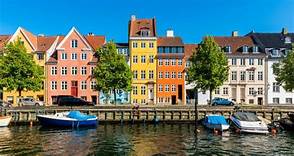 If simple and beautiful is what you're looking for a vacation, then Denmark is a perfect destination worth considering. Denmark is a small country with amazing architecture, art galleries & museums, delicious food, fashion, and so much more.
In this article, I'll discuss 5 top reasons why you should spend your next vacation in Denmark. Stay tuned!
Amazing art galleries and museums
For historians and art lovers, Denmark is a dream destination worth exploring. Denmark features numerous museums and art galleries that shed light on art movement and ages, including the Vikings and the Danish Golden Age art movements.
To explore the Danish history and culture, make sure you visit the National Gallery of Denmark. Other museums worth visiting include the ARoS Aarhus Art Museum, Ny Carlsberg Glyptotek, Kunsten Museum of Modern Art, Louisiana Museum of Modern Art, and the Thorvaldsens Museum.
Beautiful Food and Beautiful scenes
The fresh and delicious Danish food is another reason why you should visit Denmark. One thing about the Danes is that they cherish healthy lifestyles, so you are unlikely to be fed on unfresh foods.
You can buy fresh bread in the markets, among other foods such as fish, salmon, fruits, and vegetables. One of the most famous markets for fresh local foods is the Torvehallerne food markets – there are over 60 stalls that sell local dishes and food ingredients. Also, check out the Copenhagen Reffen Island Street food market.
Fun biking experience
For biking lovers, Denmark is the most bicycle-friendly destination you can visit. Besides having flat land, Denmark features some of the best-designed bike routes and cycle bridges. You can rent a bike and explore the city for the best sights in Denmark. It won't be a surprise to make a new friend, among the fellow cyclists. Copenhagen, which is the Danish Capital, is the world's most bike-friendly city with about 675,000 bicycles and only 120,000 cars.
Fashion and shopping
If you are into fashion, then you set aside more cash for shopping if you're planning to visit Denmark. Denmark has a super trendy fashion, brands, and accessories. Some of the major fashion labels are Day Birger et Mikkelsen, Munthe, Mads Nørgaard, and Bruuns Bazaar.
Beautiful beaches
Denmark is also a perfect destination for a beach getaway, with over 7,300 km of sea white sand beaches. Check out some of Denmark's famous beaches such as the Tisvildeleje, Søndervig, Blåvand, Hornbeck, and Blokhus. Denmark also features some stunning landscapes such as the Rubjerg Knot, Skagen, Mile, Råbjerg, Møns Klint, Moaning Bay, Anholt, and Rold Forest.
If you have more time, you can see Skagen, it's where 2 seas meet – the North and the Baltic Seas meet. As well, don't miss to visit the buried St Laurence's Church and the Øresund underwater bridge.
Conclusion
Besides what we've discussed we've above, Denmark is an incredibly clean country. You won't find people littering around, and you can visit it all year around. Besides, the food, accommodation, and transport packages are quite affordable.